Whether you need a single piece of hand crafted furniture or to transform an entire room, your experience with Aster Workshops will be the same. A full imagining of the space and solutions, clear plans, a firm price, and on time delivery: your project should be enjoyable and exciting, and we'll do everything we can make that happen.
This project is a great example of how we'll work together to figure out the best design for you and your family, and how that project proceeds through its phases.

We'll see what you have

Using plans, photos, and what feels like a thousand real world measurements, we'll figure out exactly what's going on with your space and create a 3D model of it using Sketchup.

We'll talk about what you want
Spent a few hours flipping through design magazines, clicking around on DIY blogs, or in a trance in front of HGTV? That hazy, dreamy zone where you're looking at your space while imagining all the different ways you could transform it can be a blast. We'll take those dreams and figure out how to make them real.
This couple knew they wanted a bench in front of the window, but weren't sure where to go beyond that. I tinkered around with a few ideas until I had the one I was comfortable to show as a starting place for the discussion.
Time to refine
After the first round of designs, we'll figure out what's good and what can be better, working toward something you're thrilled with.
The clients loved the form, but thought the piece would blend better with the interior if painted the same color as the trim that runs throughout the first floor. It hadn't occurred to me, and ended up being an excellent idea.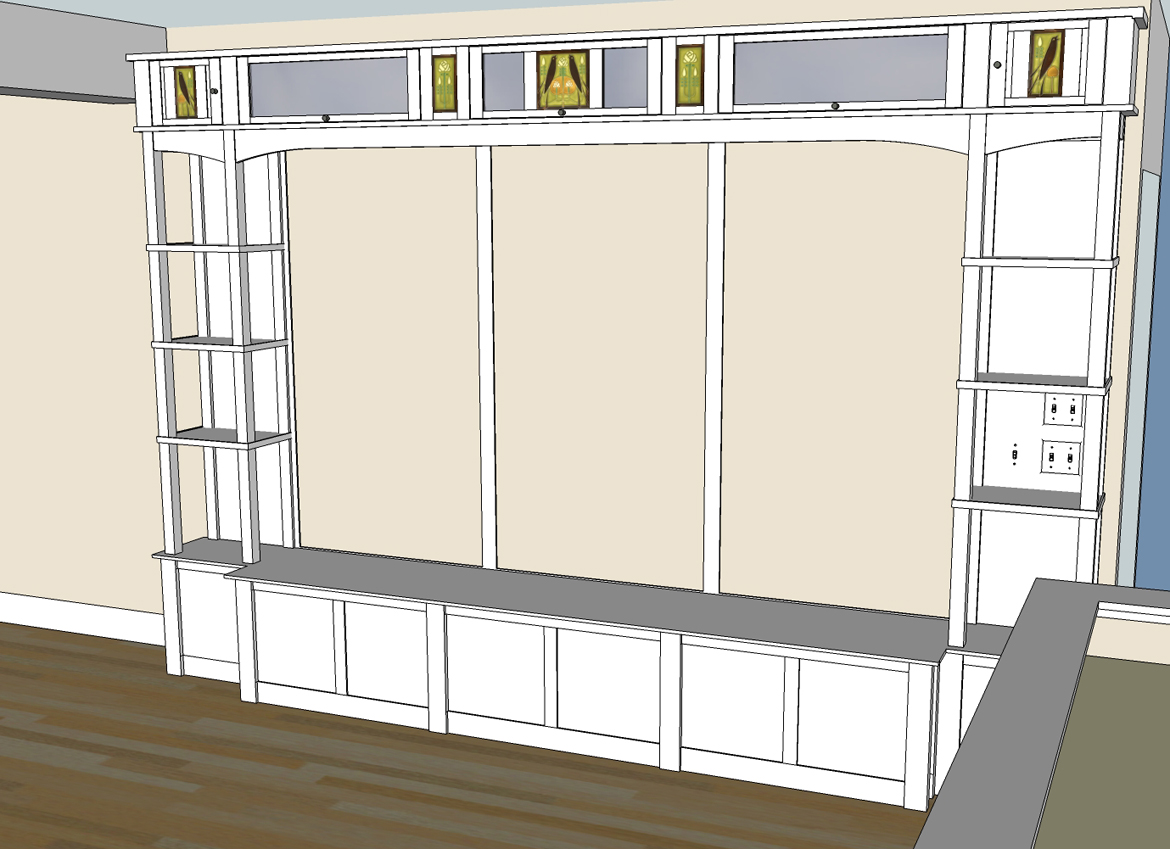 Time to finalize
Once we have the form and finish nailed down, it's time for me to disappear and figure out all the specifics. I'll figure out every bit of material I need and develop a solid timeline. You'll be presented with a thorough description of every aspect of your project, a firm price, and a reliable completion date.
Good communication is vital to success, so we'll have a dedicated project page using Basecamp, an easy and useful management site. We'll be able to share conversations, ideas, photos, and progress from our first meeting through final cleanup.
After a bit more thought, the clients decided the piece would look more natural and original to the house without the (beautiful but distracting) Motawi tiles on the upper, so with one final design, the project was ready to begin.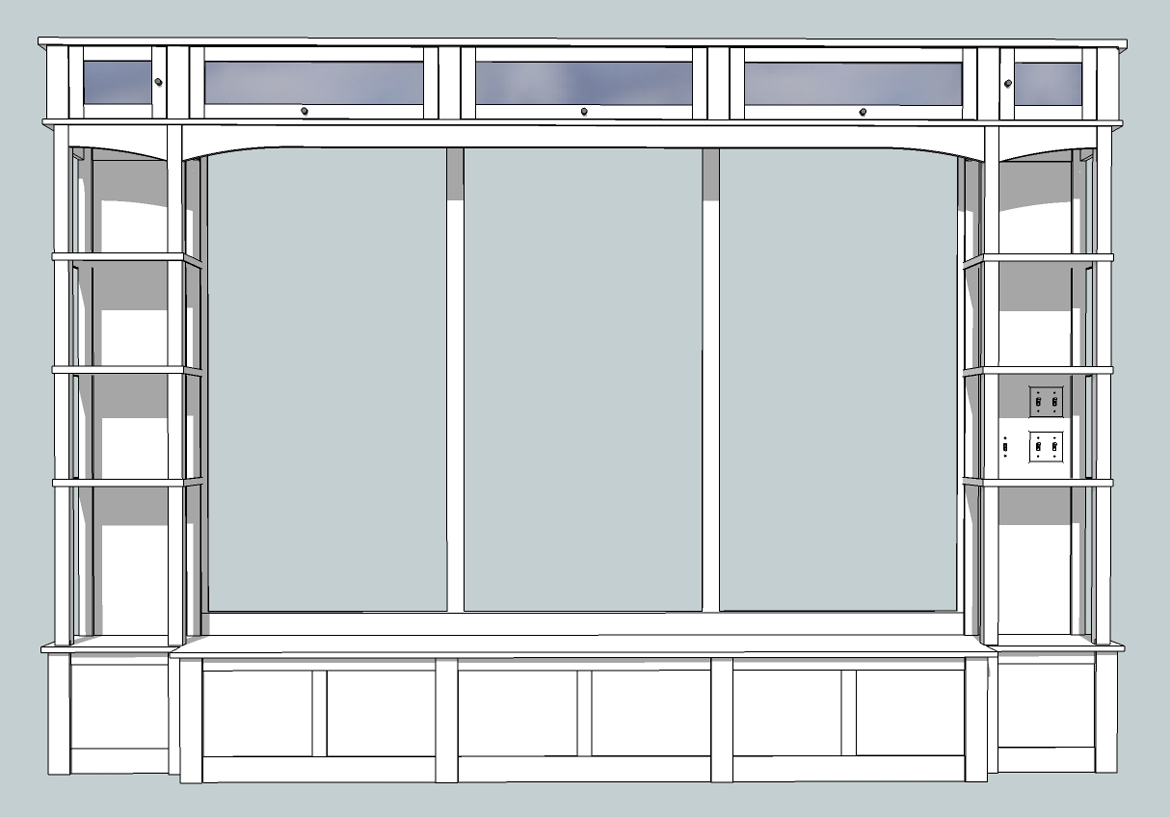 Into the workshop
Now it's on to the fun part (for me): wood selection, preparation, layout, and construction. Whenever possible, components are constructed off site to minimize hassle for the homeowner.
Coming home!
Once the components are built, prepared, and double checked, it's time to load up and install.
Finishing
With the structure complete, it's time to turn the project over to a trusted professional: Mike from Gray Paint (other colors available – 616.405.4074). Not only did he do a spectacular job, on time and for the quoted price, he tented off the built-in to protect the rest of the house from splatter and over spray. Awesome.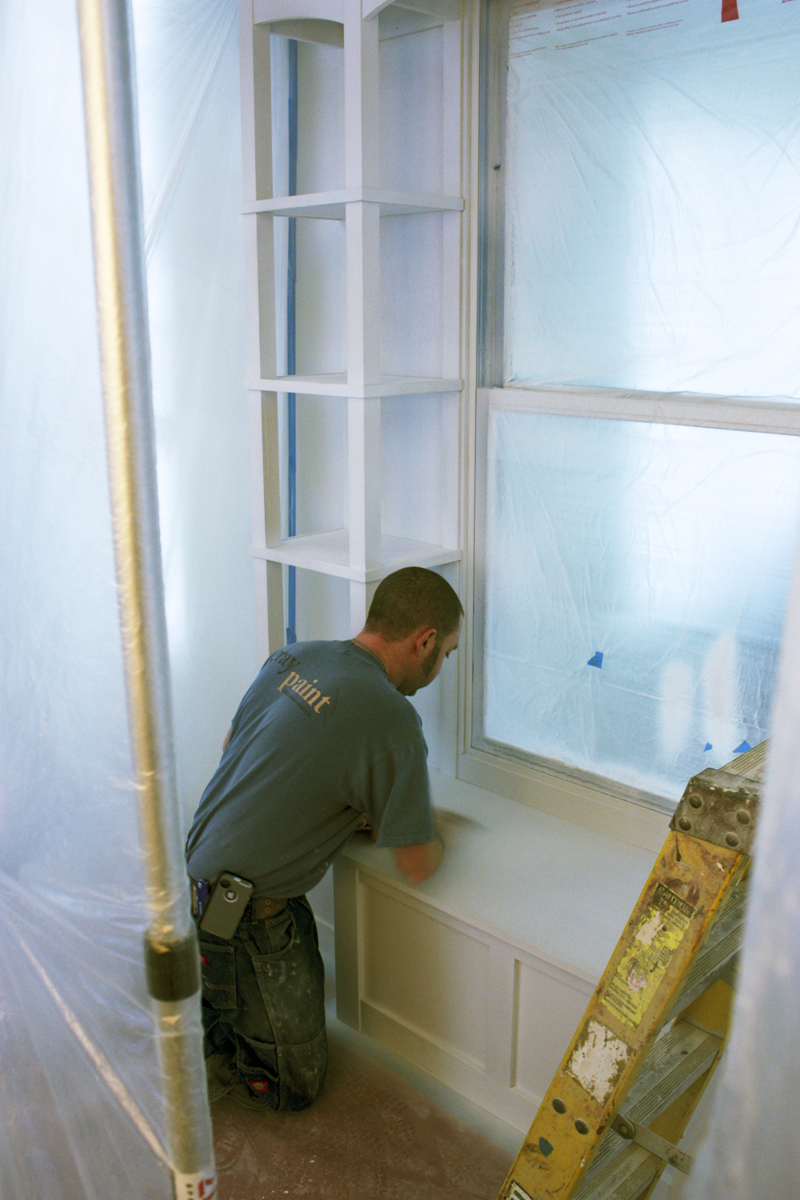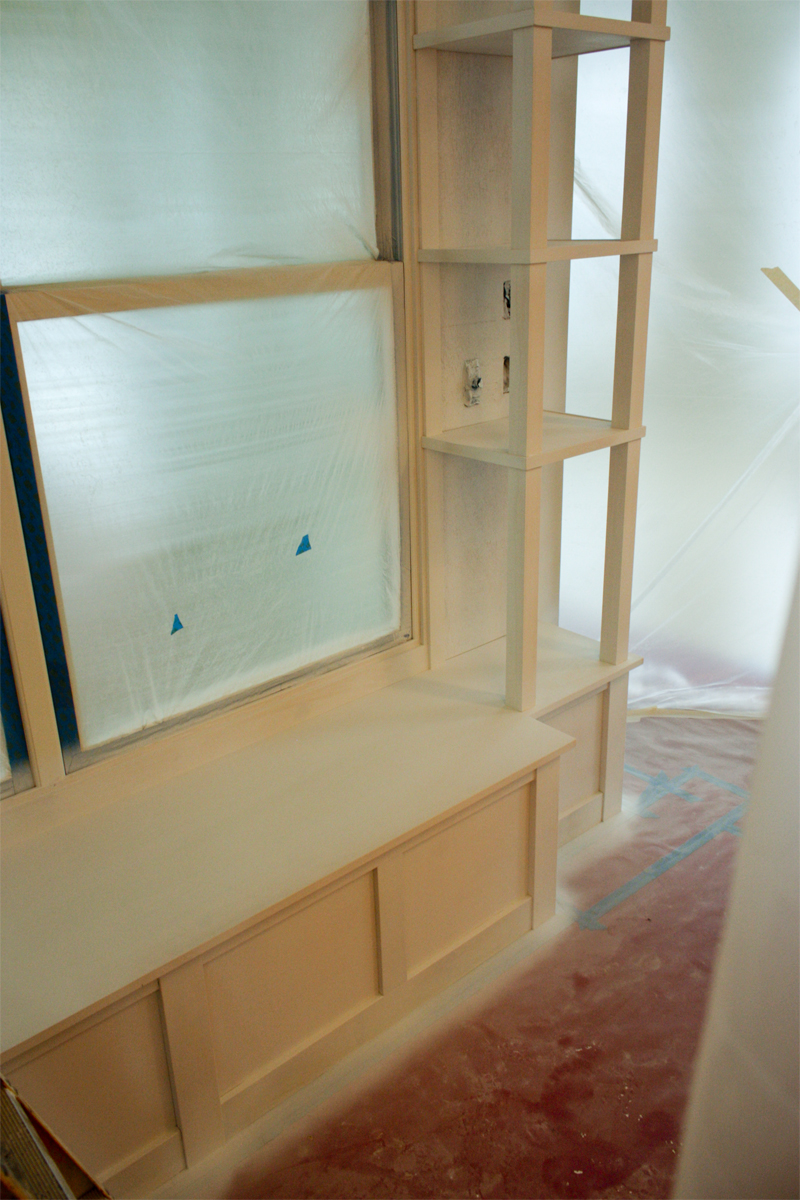 Nearly complete. We just need to make sure you're thrilled.

With the paint complete, only a few things remained: glass and hardware for the doors, door installation, and a full cleanup.
Then, of course, final approval from the home owner. See what you think.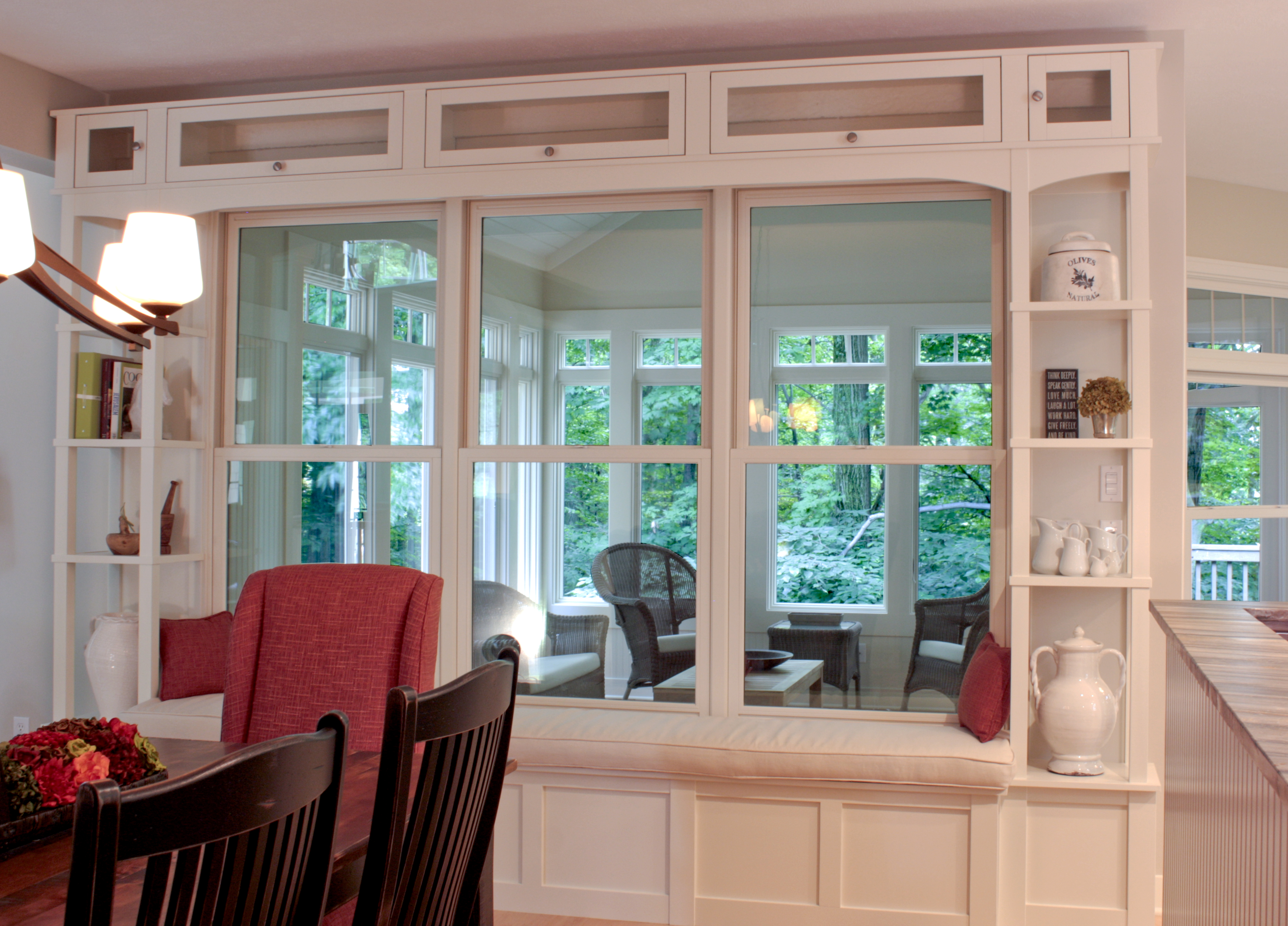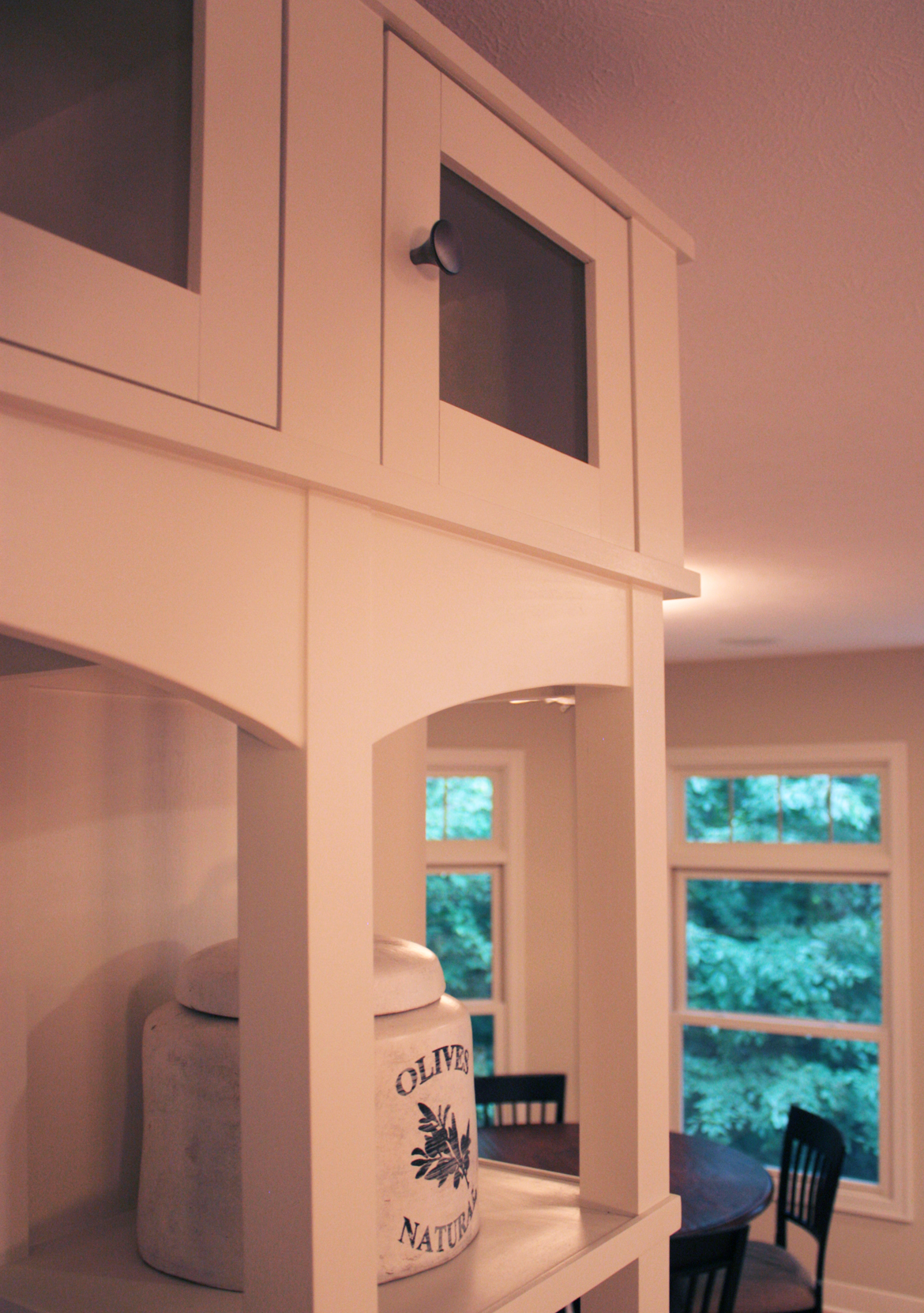 So, what does your home need?
Take a look around. See what you'd like to change. Give us a call.